We are beyond excited to share this blog post from our new contributing author, Alyssa (Hall) Anderson. Alyssa not only teaches sociology at Western Illinois University, but she is an alumni of Cuba High School and currently resides there as well (read her full bio below). In this blog, she discusses the history of housing discrimination and racial segregation in the North.
When I first listened to the podcast on Sundown Towns with Dr. Loewen, it reminded me of the ways segregation was implemented in the north. Wait, what? Often, when we ("northerners") think of segregation, we think of the Jim Crow South and the ways in which state and local laws restricted public life for African-Americans. What we may not always realize is how segregation was not just a southern norm. Segregation also occurred in the north, but was accomplished without the implementation of laws such as Jim Crow. Let's look at how…
The most common way that segregation was implemented throughout the U.S. was through the red-lining by the Federal Housing Administration and banks, which began in the 1930s and did not end until the passage of the Fair Housing Act in 1968. During this period, color-coded maps were created to indicate the level of risk in providing and insuring loans in neighborhoods across America.
"Maps were color-coded by first the Home Owners Loan Corp. and then the Federal Housing Administration and then adopted by the Veterans Administration, and these color codes were designed to indicate where it was safe to insure mortgages. And anywhere where African-Americans lived nearby were colored red to indicate to appraisers that these neighborhoods were too risky to insure mortgages. The Federal Housing Administration's justification was that if African-Americans bought homes in these suburbs, or even if they bought homes near these suburbs, the property values of the homes they were insuring, the white homes they were insuring, would decline. And therefore their loans would be at risk. There was no basis for this claim on the part of the Federal Housing Administration. In fact, when African-Americans tried to buy homes in all-white neighborhoods or in mostly white neighborhoods, property values rose because African-Americans were more willing to pay more for properties than whites were, simply because their housing supply was so restricted and they had so many fewer choices. So the rationale that the Federal Housing Administration used was never based on any kind of study. It was never based on any reality" (Rothstein 2017).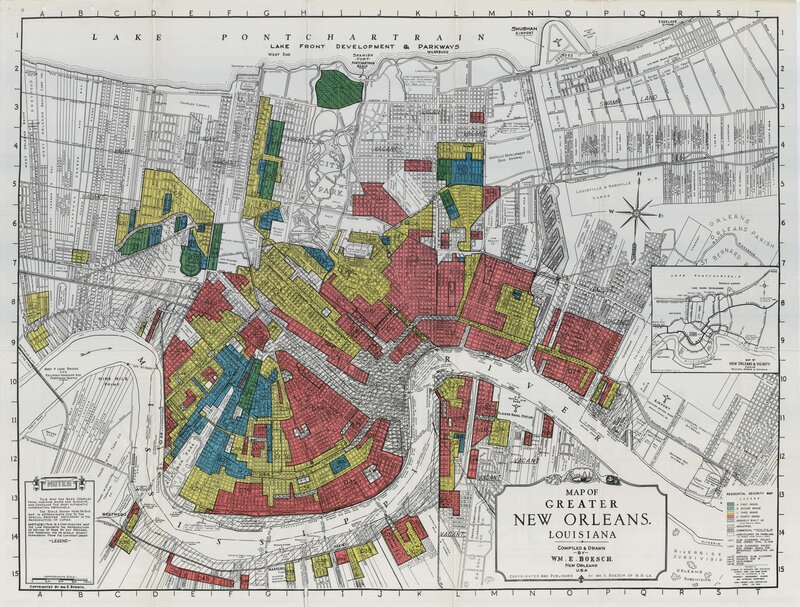 The practice of red-lining drove property values within neighborhoods. All-white neighborhoods were color-coded green and property values were much higher. Because African-Americans were denied access to mortgages through red-lining, often their only option was to rent or buy a house on contract. Therefore, in neighborhoods that were all African-American, demand for homes was much lower, depressing the housing values in those areas. Understanding the effects of red-lining on property values helps us to also understand the racial disparities in wealth. "The median average white family in the U.S. has approximately $171,000 in net wealth, while the median African American family has approximately $17,000" (Broyles and Komaragiri 2019). Richard Rothstein, author of Color of Law, describes this program of red-lining as "state-sponsored segregation" (Rothstein 2017).
Along with the denial of mortgages to African-Americans through red-lining, you had the more explicit restrictive or racial covenants. "Racially restrictive covenants, contractual agreements attached to specific properties by owners, prohibited the sale or lease of any part of a building to designated groups of people, usually African-American" (The Newberry 2019). The use of these continued through the 1950s.
Therefore, even if an African-American might be able to get a home loan to aid in the purchase of a home, they may not be allowed to buy a specific home due to a restrictive or racial covenant within the deed of the property.
At the same time that the practice of red-lining was segregating our neighborhoods by race, the Federal government was subsidizing the building of suburbs, which were typically only made available for purchase to white occupants, by developers across the country. The developers of the subdivisions were encouraged by the FHA to not sell homes to black people.
One of the most well-known of these communities was Levittown. Levittown opened in 1947 in Pennsylvania and was one of the earliest versions of the modern suburbs. Many veterans bought homes in these early subdivisions through the use of the GI Bill by the federal government, which provided cheap loans to white veterans. Levittown was a whites-only community. Bill Levitt, the developer built the developments with the help of the FHA (Federal Housing Administration) who subsidized developers on the condition that they didn't sell homes to black people (Rothstein 2017).
Sun-down towns also helped to accomplish this pattern of segregation in the north. Sun-down towns were communities throughout the U.S. where minorities were encouraged to leave prior to sun-down. These unspoken threats of violence or unsafety were sometimes marked by official signage within communities across the United States, but not always and worked to maintain racial segregation in neighborhoods and cities.
Through housing segregation (primarily through red-lining and racial covenants) the north accomplished much of what the south did in regards to racial segregation, but without Jim Crow laws. Because, if you racialized housing then you wouldn't have to work with, go to school or church with, swim in a pool with or play at a playground with people who were not white. As New York Times investigative journalist, Nikole Hannah Jones states, "If the neighborhoods are segregated, then the schools and everything else will be too" (Conover 2017). The north still remains much more segregated in terms of race today than the south. For example, data from the 2010 census shows us that of the 25 most racially segregated cities in America, 20 of the 25 are all northern metropolitan cities (Logan and Stultz 2011).
It is time for all Americans to confront the ideas of segregation and racism today and all over and remember that this is not an issue constrained to a specific time or a specific geographic location. This is not a southern problem, this is an American problem and this is not just in the past, the legacy of housing discrimination and segregation is still present in many American neighborhoods and schools.
About Alyssa (Hall) Anderson Biography
Alyssa Anderson is a 2003 graduate of Cuba High School. She attended Spoon River College in Canton, IL and graduated with her Associates in Art and Science in May 2005. She finished her Bachelor of Arts degree in Sociology at Western Illinois University in May of 2007. Being a resident of a small rural town, her Sociology classes helped her to understand the changes she had witnessed in her own home town. She stayed on at Western Illinois University for her graduate studies and received her Master of Arts degree in Sociology in May of 2009. She has taught Sociology classes since her graduation at Spoon River College, Carl Sandburg College, and Western Illinois University where she is currently employed as an Instructor of Sociology. Alyssa continues to live in Cuba with her two daughters, Jayna, 9 and Reese, 3.
Sources
Broyles, Michaela and Anagha Komaragiri. 2019. "A Conversation about the Racial Wealth Gap-and how to address it." Brookings: Washington, D.C. Retrieved November 18, 2019. (https://www.brookings.edu/blog/brookings-now/2019/06/18/a-conversation-about-the-racial-wealth-gap-and-how-to-address-it/)
Conover, Adam. 2017. "Nikole Hannah Jones on the Rippling Effect of Redlining and Segregation." Adam Ruins Everything Podcast: Episode 36. Retrieved November 18, 2019. (https://adamruinseverything.libsyn.com/nikole-hannah-jones-on-the-rippling-effects-of-redlining-and-segregation)
Logan, John R. and Brian J. Stults. 2011. "The Persistence of Segregation in the Metropolis: New Findings from the 2010 Census." Retrieved November 18, 2019. (https://s4.ad.brown.edu/Projects/Diversity/Data/Report/report2.pdf)
The Newberry. 2019. "Restrictive Covenants." Chicago, IL: The Newberry. Retrieved November 18, 2019. (http://publications.newberry.org/digital_exhibitions/exhibits/show/civil-war-to-civil-rights/segregated-chicago/restrictive-convenants)
Rothstein, Richard. 2017. "A 'forgotten' history of how the U.S. government segregated America." Fresh Air with Terry Gross. Retrieved November 18, 2019. (https://www.npr.org/2017/05/03/526655831/a-forgotten-history-of-how-the-u-s-government-segregated-america)
Rothstein, Richard. 2017. "A 'forgotten' history of how the U.S. government segregated America." Fresh Air with Terry Gross. Retrieved November 18, 2019. (https://www.npr.org/transcripts/526655831?storyId=526655831?storyId=526655831)